Give kids and their families a reason to believe this holiday season.

When you donate, you light up our beloved mascot, Dr. Bear, at the hospital. Patients and their families will see you care — at the speed of light!

Your generosity brings them hope, healing and brighter futures through world-class care and lifesaving research.

Give now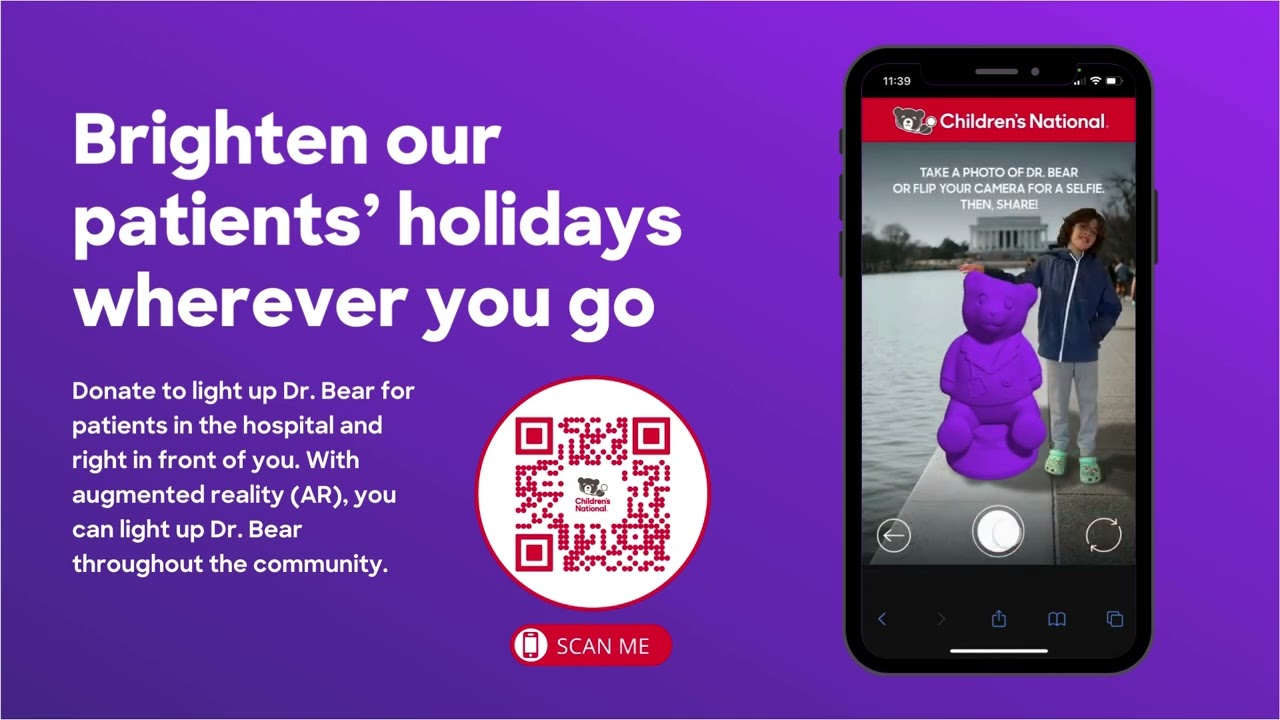 Please donate via credit card to experience our Light Up Dr. Bear app.
Care providers always treated my daughter like she was the most important person in the room. The little things meant so much — the nurse who turned on a cartoon to distract Naomi while her spinal fluid was drawn and the staff person who brought her holiday crafts so she could still celebrate in the hospital.
Chris
Parent of Children's National patient, Naomi
Thank you to our generous community partners.
7News
AC Hotel National Harbor Washington DC
AC Hotel Washington DC Downtown
Ace Hardware
Adams Morgan Ace Hardware
Bethesda Marriott
Bethesda North Marriott Hotel & Conference Center
Bobapop - Germantown
Bobapop - Gaithersburg
Celebree School of National Landing
Celebree School of Reston
Celebree School of Tysons-Jones Branch
Chevy Chase Stationery
Coffee Republic - Gaithersburg
Coffee Republic - Georgetown
Coffee Republic - DC
Conte's Bikes
Core 72
Courtyard by Marriott Arlington/Crystal City
Courtyard by Marriott Gaithersburg Washingtonian Center
Courtyard by Marriott Rockville
Courtyard by Marriott Washington, DC/Foggy Bottom
Courtyard by Marriott Washington, DC/U.S. Capitol
Crystal City Marriott
Crystal Gateway Marriott
Don Ciccio & Figli
Downtown Crown
Fairfax Ace Hardware
Falls Church Marriott Fairview Park
Frager's Ace Hardware
Gaithersburg Marriott
Gaylord National
Glover Park Ace Hardware
Groovy dc
Kids Ground
Kings Craft
Little Beast

Logan Hardware
Marriott Bethesda Downtown at HQ
Marriott Marquis Washington, DC
Marriott Tysons Corner
Old Takoma Ace Hardware
Old Town Ace Hardware
One Loudoun
Petworth Ace Hardware
PR Run & Walk
Praline Bakery - The Wharf
Praline Bakery - Bethesda
Renaissance Arlington Capital View
Residence Inn Alexandria Old Town/Duke Street
Residence Inn Arlington Capital View
Residence Inn Bethesda Downtown
Residence Inn DC Downtown
Residence Inn Gaithersburg
Silver Spring Ace Hardware
Southwest Soda Pop Shop
SpringHill Suites Gaithersburg
Tenleytown Ace Hardware
The Mayflower
The Spa K
The Westin Georgetown, Washington DC
The Westin Reston Heights
The Westin Washington DC Downtown
Three Littles
TownePlace Suites Alexandria Fort Belvoir
Tuckernuck
Washington Marriott at Metro Center
Washington Marriott Georgetown
We Art Fun
Westfields Marriott Washington Dulles
ZAVAZONE - Rockville
ZAVAZONE - Sterling