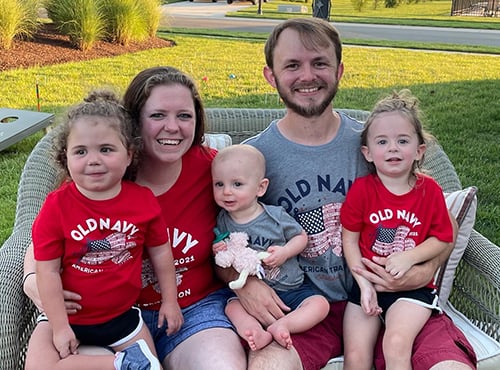 Cayden's Story: Defying the Odds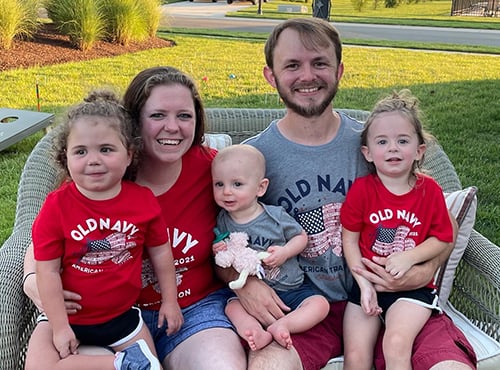 Defying the Odds: Cayden Celebrates Her 3rd Birthday Thanks to Unique Cardiac Surgery Approach
In most hospitals, Cayden's chances of surviving more than a few hours after her birth would have been considered impossible. Cayden was born six weeks early with her twin sister, Reagan, and she weighed a mere 3 pounds 11 ounces. But her biggest obstacle was her life-threatening complex congenital heart defect: hypoplastic right ventricle, double inlet left ventricle, and critical coarctation of the aorta.
Despite the odds, parents Dillon and Casey of Mechanicsville, Maryland, are celebrating Cayden and Reagan's third birthday together and say it is thanks to the experts at the Children's National Heart Institute and their unique approach to cardiac care, including combining the expertise of cardiac surgery and catheterization in an operation called the hybrid procedure for hypoplastic left heart syndrome (HLHS).
"We knew about Cayden's heart problems before she was born and learned that Children's National Hospital is one of the only places in the country that will take cases like Cayden's," Casey said. "Most hospitals would not have attempted the lifesaving surgery on her because she was so small. We feel very fortunate Children's National is only an hour from our home." Cayden's low birth weight and complex congenital heart defect posed incredible challenges even for top experts.
"Most places would have said, 'We're very sorry, but the baby is too tiny, surgery is too risky, there is zero chance of survival.' But at Children's National, we take on cases that nobody else would even consider," said Mary Donofrio, M.D., medical director of the Prenatal Cardiology Program and co-director of the Cardiac Neurodevelopmental Outcome (CANDO) Program. As the Director of the Prenatal Cardiology Program, Dr. Donofrio follows babies while in utero, counseling families and carefully planning deliveries so babies are born safely and transitioned efficiently to the cardiac intensive care unit (CICU). "Our multidisciplinary team is willing to push the limit of what is possible in medicine. We work together as a group — intensive care physicians, surgeons, cardiac interventionalists, fetal doctors, imaging specialists, and more — to take on these challenging cases. I have parents say to me, 'You are the only place that has given me hope, and I live on hope.' That is our motivation," she said.
Lifesaving Care from the Children's National HLHS Hybrid Program
"In the last four years, we have never denied any patient requesting treatment," said pediatric cardiac surgeon Can Yerebakan, M.D. "Our program does not hesitate to take patients with even the lowest chances of survival; in fact, they motivate us to constantly improve our outcomes and performance so we can help more children." What distinguishes the Children's National Heart Institute is its team that includes top experts from across the world working together on a coordinated hybrid heart surgery program. This includes Dr. Yerebakan, who trained under the pioneers of the hybrid strategy in Germany, and developed the Children's National HLHS Hybrid Program.
"When I first came to Children's National, I was welcomed by open-minded leadership and the resources to start a hybrid program to treat very high-risk patients," Dr. Yerebakan said. A hybrid cardiac surgery approach combines a cardiac surgical procedure with cardiac catheterization, providing a less invasive approach for these higher-risk patients like Cayden. Typically, patients with single ventricle congenital heart disease – including hypoplastic left heart syndrome and similar variants – undergo a three-stage surgery called the Norwood procedure. But attempting the Norwood procedure on newborns with low birth weights or who are born early or as multiples is high risk, and many centers are not equipped to treat babies with these conditions.
According to the latest reports, around 40 percent of all newborns with a similar heart condition to Cayden and a birth weight of below 5.5 pounds are offered end-of-life care in the U.S. Though the hybrid procedure is performed sporadically at hospitals around the world, Children's National is one of only a few centers in the world outside of Germany with a standardized hybrid program that sees a high volume of patients. Over the past three years, as the program has steadily grown with referrals outside of the Washington, D.C., region, Children's National has treated over 35 patients using the hybrid procedure for HLHS. Nationally, only about 15-20% of children born with hypoplastic left heart syndrome or its variants are treated using the hybrid procedure; at Children's National, above 50 percent of them are treated with the hybrid procedure. Today, up to 70% of extremely high-risk babies are alive and at home thanks to the hybrid procedure at Children's National.
In Cayden's case, the hybrid procedure for HLHS offered her the only chance for survival.
Cayden Successfully Undergoes the Hybrid Procedure for HLHS
Cayden's care team agreed since the complex Norwood procedure was too risky at birth, she would require a hybrid procedure. They needed to delay the more complex Norwood-type surgery until she had grown stronger. The day after Cayden was born, the team performed a simpler procedure placing small bands around the pulmonary arteries to control blood flow to the lungs, and the following week performed a combined catheterization procedure in a hybrid operation suite to put a stent into the ductus arteriosus to keep it open and ensure blood supply to her lungs and body. This allowed Cayden four months to grow until she was strong enough to undergo a so-called comprehensive stage II operation, an extensive and long surgery. Cayden spent the first seven months of her life at Children's National, a difficult experience her parents said was eased by the compassionate care team.
"Something that helped get us through was the nursing staff," Cayden's mother, Casey, said. "We became very close with the nurses and physicians in the cardiac intensive care unit. Many of them became like family." Casey said they tried to maintain a sense of normalcy throughout their months at the hospital, even when they missed family holidays together. "We always tried getting pictures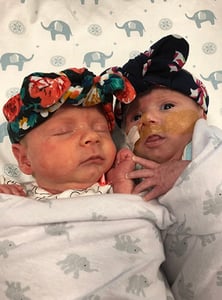 of the girls in matching onesies for holidays. We did not get a chance to take a picture of Cayden in her Thanksgiving outfit because she had a stroke that day, so that evening one of the nurses made it her mission to put Cayden in the onesie so we could have the photo of her with her twin. This was one of many ways they tried to help us feel as normal as possible, even when our world was turned upside-down."
Cayden will still require the third surgery in the Norwood sequence called a Fontan procedure. But her parents say as they wait, they continue to receive close support from their care team at Children's National.
"As survival rates for children with these complex cardiac issues increase, we are looking beyond survival and helping them thrive in life," Dr. Donofrio said. "As a care team, we are very invested in each of our patients. We consider our parents as part of the team. Their involvement and hope have kept Cayden well. We are all in it together." Cayden still faces health challenges and is working through learning how to walk and eat on her own. But today, her parents say Cayden weighs 33 pounds and is a happy little girl who loves her sister, stickers and Disney princesses.
"I would tell any other parent who is considering coming to Children's National to lean on your care team here because for them it is more than a job. They all put in more effort than what is required," Dillon said. "As happy as we were to bring Cayden home, it was hard to leave the care team who had become like family."
Departments that Treated
Care Team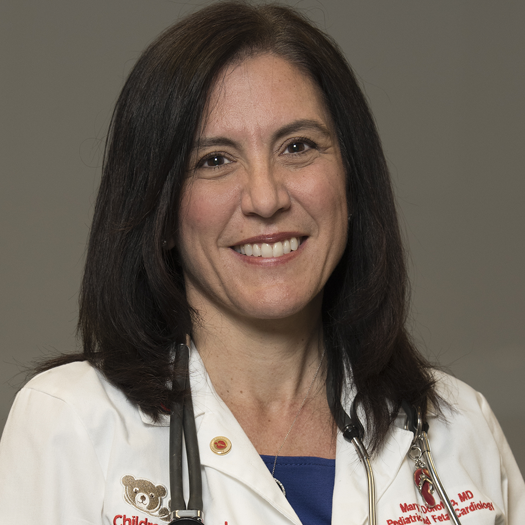 Mary Teresa Donofrio, FAAP,FACC,FASE,MD
Medical Director, Prenatal Cardiology Program
Co-Director, Cardiac Neurodevelopmental Outcome Program
Advanced Imaging Cardiologist