Support the COVID-19 Emergency Action Fund to Help Children's National Hospital Respond to Novel Coronavirus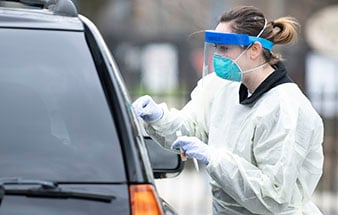 Coronavirus has changed life as we know it. Its spread is a public health crisis unlike anything we have seen in our lifetimes. Every day presents new challenges and uncertainty.
Children's National Hospital is working around the clock to keep our patients, families and caregivers safe. We draw strength from each other during this difficult time.
We need your help.
Philanthropy is crucial to keep ahead of the crisis. Children's National created the COVID-19 Emergency Action Fund to respond quickly to the most urgent needs — so we can continue to be a lifeline for our caregivers and the families we serve.
"This pandemic puts an unprecedented strain on our caregivers and the hospital's resources," says DeAnn Marshall, president of Children's National Hospital Foundation. "The need for collective action is urgent and essential. Your support will help Children's National respond as quickly as possible to each new challenge we face. Our patients, families and caregivers will be able to count on us because of you."
Your gift to the COVID-19 Emergency Action Fund will:
Protect Children — by screening patients with symptoms in an urgent response tent outside our hospital and by maintaining our supply of personal protective equipment to keep our caregivers safe
Provide Answers — to families' urgent questions by testing for the virus at our remote site — the only one in our area focused on children
Deliver Care — by expanding telemedicine options for families so they can be cared for without risking exposure at our hospital
Support Providers— by addressing personal needs such as child care and transportation so they can stay well and remain focused on delivering the best possible care
The generous support of philanthropists has already enabled Children's National to open a drive-up/walk up location where primary care doctors in the Washington, D.C. region can refer young patients for COVID-19 specimen collection and testing.
This new site is just a single part of what's required to address the full scope of what is needed.
"Through the collective strength of our community, we can meet the unprecedented needs of our patients, families and care providers," says Marshall. "We are grateful for all those who are champions for community health and the families we serve. We wish you all health and safety in the days and weeks ahead."
Support the COVID-19 Emergency Action Fund today by visiting ChildrensNational.org/CoronaVirusResponse. You may also make your gift by mail at
1 Inventa Place
6th floor
Silver Spring, MD 20910

(Attention Ms. Shelby Tudor) or by phone or wire (contact Shelby at 301-565-8463 or [email protected]).